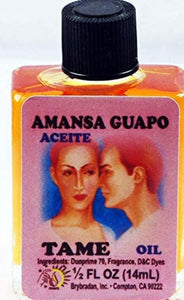 Tame oil
Use Indio Tame Fragranced Oil to help calm someone with emotional stress. It is also known as Amansa Guapo, used to help your partner be obedient to your words and demands.
You will receive a 4.5 fl. oz. in a Glass Bottle.
All of my oils are cleared of negative energy and blessed before shipment. I am offering a free oil preparation. Let me know your intention, and I will add a mixture of herbs for a higher vibration. Although most of the oils we sell have an enjoyable scent, the scent may change once the herbs are mixed in. Please notify me of any allergies immediately. Please note you must purchase an oil along with an upgrade.
Overall Spiritual Oils have strong vibrational qualities. It is an extremely effective way of working on a higher vibrational level. Spiritual Oils can be used in multiple ways, applying them to your body, your environment, your tools (magical or otherwise), added to spiritual baths.