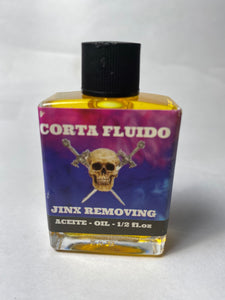 JINX REMOVING OIL
Jinx Removing Oil,Quita Maia Suerte Aceite 1/2 oz. Bottle

As with all my items a little Thank You gift is always included!
Disclaimer: By purchasing these products you are stating that you are at least 18 years of age and that you are fully responsible for yourself, all of your actions and the resulting outcome whether mundane or magical, lies solely on you. Please do your own research before using any of our products. The information presented herein is intended for educational purposes only. It is not intended that this information covers all uses, directions, drug interactions, precautions, allergic reactions, or adverse effects. Do not use any herbs if pregnant or breast feeding. These statements have not been evaluated by the FDA and are not intended to diagnose, cure, treat or prevent disease. One should always thoroughly research any herbal information before using and/or digesting. While many herbs demonstrate medicinal properties when properly prepared & prescribed, some plants can be extremely toxic if ingested.
NEVER ingest plants unless you know EXACTLY what they are and what effects they might have on the human body or a pet after consumption. Consult with your own health care provider before use. I am not a healthcare provider. All spell materials are provided as tools only, the biggest ingredient is you! I cannot guarantee any object you purchase - sold as a curio only. Remember whatever you cast comes back to you tenfold so always be sure your intent is pure. Willows Pagan Shop or its owners is in no way responsible for any /and/or harmful things resulting from the use of such herbs or the use of any of their products. .
***Metaphysical/magical outcomes are not implied or guaranteed by using this product. Any information herein related to "magical properties" represents historical or traditional usages in mythology, folklore, folk medicine, or alternative spiritual practices and is provided as a matter of interest and entertainment only.***
NOTE Some herbs should not be taken internally. The herbal information on this web site is intended for educational purposes only. Please see a medical professional about any health concerns you have.
All of our loose incenses or resins are to be burned on charcoal. They are hand-made only after you order them to ensure freshness. Incenses can be used for cleansing, meditating, healing, spellcasting and even aromatherapy.
External use only! Again:
Our herbs, oils and incense blends are completely natural and for magical and ritual work only: no liability will be assumed by willowspaganshop or its owners for any claim arising out of the misuse of our products:
- please do not ingest and do not take any of our product internally;
- keep out of the reach of children and pets;
- keep all our incense blends, magic dusts, ointments and oils away from eyes, mouth and mucous membranes
- if using our incense blends any redness, burning, itching or irritation occurs, stop using the product and consult your medical provider immediately
- if you're pregnant or nursing a baby, seek the advice of a healthcare professional before using any of our products
- if you have heart disease, epilepsy, high blood pressure, allergies, diabetes, cancer, liver damage or any other medical condition, seek the advice of a healthcare professional before using any of our products
- perform a proper skin test before use our magical oils, ointments and dusts: fragrance products can cause irritation and dermatitis in some people with sensitive skin and allergies; apply a small amount to the skin of your inner arm and wait ten minutes to see how your skin react to the product before applying it; do not use if redness or irritation occurs.