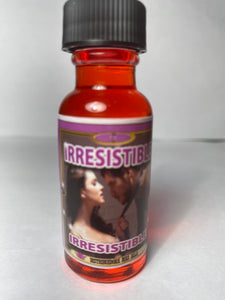 IRREVERSIBLE ME
Description
Irresistible Me is an Art of the Root exclusive blend designed to make the wearer have anenchanting effect on the opposite sex. It contains a wonderful blend of herbs and oils that are all known to help create a playful, enchanting and alluring energy. When creating this blend, we sought to capture the festive and joyful elements of romance. Made with dill, el campagne, catnip, linden blossoms, and an array of other herbs and essential oils, our Irressitible Me is perfect to wear while attending any new social function, date, or night on the town. It's also great for those of you who wish to add a little spunk and spice to your current relationship. It comes in a ½ bottle.
Irresistible Me can be worn on the body, dabbed in the bath, anointed on jewelry or dabbed into the heel of your shoe. For those of you who may be struggling with a low esteem or simply want to to be more daring your romantic undertakings, rub some directly on your heart chakra. Mix a bit in your favorite lotion or rub a bit directly into your hair. Apply a bit of oil on a cotton ball and carry it on you or place it in your purse. Anoint it on a picture of those who affection you seek. Place a bit in a bowl of water and put it under your bed. Use a bit as a polish and rub down your front door. You can even add a few drops to a vase of water prior to placing your favorite flowers in it. Roses and daffodils work well!
For ritual work, get a gold or yellow candle and carve your name and birthday directly into the candle with either a tooth pick or pen. Anoint the candle with Irresistible Me Oil drawing the candle up the candle towards the base of the wick. When you are ready, light the candle and say a prayer of your own or simply read psalm 45. If you have a specific love interest in mind get a pink candle carve the name of the person you wish to enchant into the candle. Then, carve your name directly over theirs. Get some yellow thread and gently wrap it around the candle where the names have been carved. Do not over do the thread! It can affect the burn of the candle. When you are ready, light the candle and say your own prayer or recite the Song of Songs out of the bible.