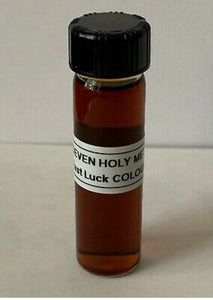 7 Holy Metals oil
SEVEN HOLY METALS – COLOGNE CONCENTRATED ESSENCE
Seven Holy Metals Oil 
traditionally has been characterized by its positive effects on body, soul and mind. Perfect for Fertility works, Abundance, Power, Masculinity, Money and Victory. Perfect for attract love, raise the passion, overcome obstacles and fight their way. Based on a great variety of flowers and natural extracts harvested by Mexican natives, which were mixed to create a unique aroma. It accompanies us as a spiritual and emotional guide, the essence created by the hairs of mother earth have transmitted a positive vibration, a feeling of strength that refreshes the spirit.
Freya's House Seven Holy Metals oil essence is powerful concentrated formula. 
Use this oil essence to feel optimistic about your finances and you will attract money from different sources. 
For stronger results, burn a yellow candle and cleanse your home with the 7 color powder incense.
7 Holy Metals Oil is a very powerful gambler's oil. Use before games of chance. Infused with 7genuine stones to pull and draw whatever you desire.  Trust the power of the Lucky 7 Holy Metals Oil